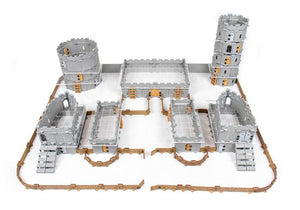 Gift Guide for the D&D Enthusiast
It's a fact. The "seasoning of giving" as we traditionally know it has come and gone. But let's be honest, there's never a bad time to think of someone else. It could be a birthday, graduation, or just a thoughtful gesture when the mood strikes. One of the problems that everyone seems to have however, is knowing just what to get the person they're thinking of. If that special someone happens to be a Dungeons and Dragons enthusiast, we're here to help. Keep reading for our best gift recommendations.

Know Your Person

It's one thing to acknowledge that your dearly beloved is a Dungeons and Dragon enthusiast, but knowing them as an active participant is a different story.
Before you go buy just any gift, consider how this person interacts with the game. Are they a Dungeon Master? Do they play face-to-face with their friends, or is their experience virtual? Do they have miniatures and play on a battle map? Or is their regular group "theater of the mind?"

Dungeons and Dragons Gifts

Now that you've answered some of the questions above, let's take a closer look at some of the most popular gifts for Dungeons and Dragons players.

Dice

Most games can be played with just any old regular set of dice. That's far from the truth when it comes to Dungeons and Dragons. Dice sets are like gold.

Having a cool set of dice is somewhat of a status symbol among both players and Dungeon Masters. They come in all matter of different shapes, sizes, and materials. The most basic are made of acrylic with distinct designs. Dice that are some of the most desired are made from materials like mammoth ivory.
If you need a place to start looking, we suggest starting here:

Dungeon Master Screen

If you're playing in a live setting (which is our specialty at Dirt Cheap Dungeons), every Dungeon Master needs a screen where they can keep everything organized and out of sight from PC's.

Let's assume that the lucky recipient of your gift is Dungeon Master. Chances are that he or she has some sort of screen.

To really knock their socks off, consider getting them the screen they've always wanted. You might need to ask some probing questions, or even talk with other regular players in their game to find out just exactly what they'd like. Chances are there's something pretty specific.

Not sure where to start? Take a look at this video:

Dungeon Master Mug

Anyone that's played D&D knows that campaigns can last a long time, sometimes they never seem to end. With that in mind, an extra shot of caffeine might be in order from time to time.

If you're looking for a cost-efficient gift, you might want to consider getting the DM in your life their own mug that lets everyone know who's in charge. There are plenty of resources online to do your research.

Battle Mats

Anyone that plays Dungeons and Dragons in person knows that a battle mat is an essential part of the game.

Maybe the Dungeon Master you're looking for has a battle mat, but they aren't satisfied with it for one reason or another.

At Dirt Cheap Dungeons, we know this problem all too well. That's why we offer the highest quality battle mats at a fraction of the price of our competitors. Be sure to check out the Chessex Battle Mat and the Chessex Mega Mat.

Storage and Transport of D&D Miniatures

Unless your Dungeons and Dragons enthusiast is a "theater of mind" participant, they're going to need a host of specialized equipment in order to carry out a successful campaign.

Keeping all the gear organized, and getting it from one place to another can be a chore. That's where Messenger Bags come in.

As Dungeons and Dragons geeks ourselves, we know just how important this piece of equipment is. That's why we're happy to offer our DCD Messenger Bag that has plenty of room, is built to last, and catches the eye.

D&D Attire

Anyone that partakes in a D&D campaign knows that sessions can last for hours. Staying warm and comfortable is key if you're going to stay focused and engaged. That means wearing the right apparel.

If you're looking for a Dungeons and Dragons gift but aren't sure where to start, you can't go wrong with a hoodie. Check out the Hoodie of Adventuring, Hoodie of Charisma, and Hoodie of Warming.

Not only are these hoodies warm and comfortable, they make it easy to show your stripes as someone that takes Dungeons and Dragons seriously and knows what they're doing.

Final Thoughts

Buying gifts always seems harder than it should be. On one hand, you want your gift to be both meaningful and useful. On the other hand, you don't want to spend an arm and a leg to make the purchase.

The good news is that shopping for someone that loves the game Dungeons and Dragons doesn't have to be hard. With a little research ahead of time to find out just how the person you're thinking of interacts with the game they're so passionate about, finding the perfect gift is easy.

These are just a few of countless ideas. If you have questions or want to learn more, reach out to us at Dirt Cheap Dungeons. We're happy to share our passion and help you find the perfect gift, regardless if it's Christmas or not.



---