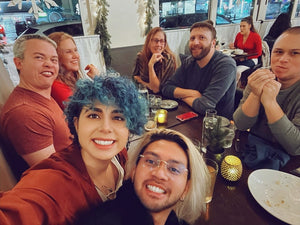 The People Behind the Dungeon
It's been crazy around the shop over the past couple of months, and with the holiday season in the US wrapping up, we thought it would be a nice idea to officially introduce ourselves to this wonderful community that we are lucky enough to be a part of. We have had the pleasure of chatting with many fans over social media and Kickstarter and getting to know some of the people that have done us the honor of bringing Dirt Cheap Dungeons into their homes to share awesome memories with their friends, so we thought it would be nice to tell you all a little bit about those of us behind the scenes here at DCD!
The Dirt Cheap Dungeons Team
Let's start off with the man, the myth, the legend himself…Cameron! As the owner/engineer of Dirt Cheap Dungeons, he is the one that keeps the rest of us focused…theoretically. If you have ever reached out and chatted with us privately or through social media, there is a good chance you have talked with him directly. None of this would be possible if not for his unique blend of creativity and know-how. Trust us when we say there is A LOT of mental gymnastics when it comes to running Dirt Cheap Dungeons, and he is the guy that knocks it out of the park with a smile on his face. When not working, which is almost never because he is kind of a workaholic, he is usually talking about cats or spending time with his family. He goes out of his way to make work an amazing place to be, and an environment we all thank our lucky stars to be a part of.
Let's move on to the absolute mad lad that is Jerry. Jerry is our resident graphics guy and meme lord. When he is not busy making himself laugh hysterically, he is assembling sets and running our machines while Cameron decides it is a good idea to take on yet another project. He's always got a crazy story to share, each one escalating from the last. On his free time, you can find him gaming like a boss, or losing all his gear in Tarkov. He likes being outside camping or looking for something adventurous to do. Jerry can be impulsive when it comes to anything that sounds remotely entertaining, with his catch phrase being "Let's go!". He serves as the backup Dungeon Master here at DCD and an experienced Game Master in general.
Next, we have our resident dice goblin, Kayla. Seriously, this girl would make Laura Bailey proud. She has displays for her dice! To be honest, messing with her dice mojo is a favorite activity around the shop. She handles all our photography as well as taking the lead on the assembly of sets. She serves as the heart of the team and is always trying to keep everyone positive with her smile and plucky personality. She is a hardcore 5e player as well as a talented artist and cosplayer. You have probably already seen her in some of our posts! This lady is a one-woman army around the shop, and we would be lost without her.
Brandon is our writer and resident Dungeon Master of Dirt Cheap Dungeons. He is most likely the other person you have talked to if you have emailed us or reached out via our Kickstarter's. You can usually find him in the mailing area trying to keep up with order fulfillment or running around trying to keep the place organized. He is responsible for most of the builds featured in our pictures, as he quite literally has multiple cabinets of terrain and decorations from his years of game mastering. As a fellow workaholic like our fearless leader, the few moments he isn't busy at DCD he is usually reading up on new TTRPG systems or writing new plot hooks and campaigns for the multiple games he runs every week for friends and family.
Anyone that follows us on Facebook or Instagram is familiar with Brandon's dog and DCD's moral support pooch, Meeko. Our Bernadoodle buddy is always around to make sure the floors are clean of food, and spirits are high. When not fulfilling his duties here at DCD, he is working hard at his other job at Deschutes Doodles. Other than that, he is usually doing what dogs do; trying to get your attention or sleeping in the most inconvenient locations.
Belmont oversees HR at DCD, and any concerns can be taken to him, where he will carefully listen and handle the issue with grace and poise. That, or he'll fall asleep. Really, it's pretty much a coin flip. As an old boy, he doesn't have time for these young people problems, and will usually resort to napping when not swamped with paperwork. We love him anyway, though.
As you can see, we are just a group of nerdy people who enjoy games of all kinds and have been fortunate enough to have found ourselves in the position to work together. Not only that, but we get to be part of such an amazing community of wonderful and creative people! We try to let that love show in everything we do here at Dirt Cheap Dungeons, and we are truly grateful for all of your support, encouragement and suggestions over the years. We promise to keep working hard for you guys, and thank you all for the opportunity to do so!
Cheers, 
The Dirt Cheap Dungeons Team
---